Absolutely disgusting
Posted by DarthDilbert at 12/28/2006 09:07:00 AM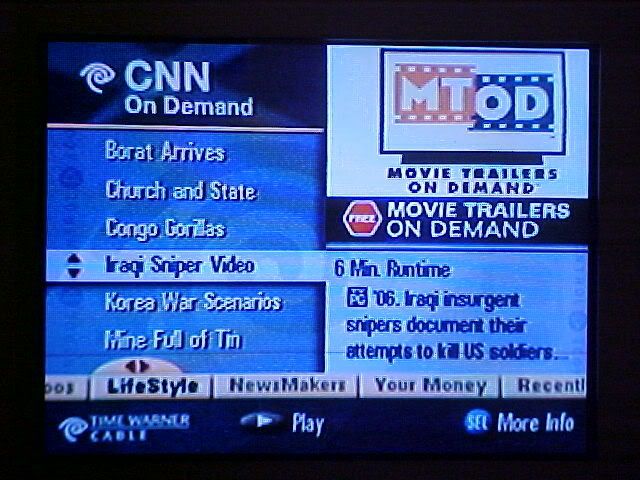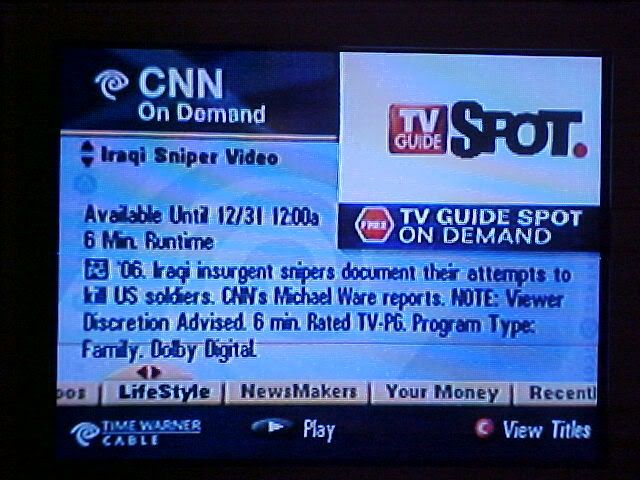 I initially contacted
TimeWarner Cable
[(937) 294-6400] and after explaining the issue to them I was forwarded to CNN. TimeWarner Cable's
only
method to contact CNN was through their
website
. I called CNN [(404) 827-1500] and was told that all they could do was to take down my information where a supervisor would call me back.
The segment in question is being sponsored by
Chase Bank
. I called them for their comment at (212) 270-6000 and was first told by an assistant from their CEO's office that I was incorrect in that they were
not
sponsoring the segment. I then offered to place them on speaker and queue up the segment, which she agreed to. It said, "This CNN On Demand program is brought to you by Chase. The Chase Freedom credit card - feel free to switch from cash to points and back again without losing a thing." It then begins this
Chase commercial
immediately before the sniper video CNN obtained from the Islamic Army of Iraq. She then changed gears and asked for my name and telephone number where they could contact me back after they have looked into this further.
I've not heard back from either CNN or Chase but will update this when or if they do. Note from the second image that TimeWarner Cable describes the segment as a "Family" program type.
Update [28 December 2006 / 9:20AM]:
A few minutes ago, Nick from their corporate communications office called back and advised that they "do not endorse the content" and "only sponsor the channel itself." However, the commercial does remain associated with the sniper video segment.
Update [28 December 2006 / 12:19PM]:
I want to welcome all those visitors from
Michelle Malkin
. I have still not received any response from CNN or TimeWarner Cable.
Update [29 December 2006 / 4:37AM]:
I want to also welcome the visitors from
BizzyBlog
(Thanks Tom!),
The Jawa Report
,
Memeorandum
,
Little Green Footballs
,
Fark
,
Wake up America
. as well as several dozen military and government locations.
In addition, I want to thank you all so very much for your comments, suggestions, and words of support. It means more than I can put into words. I stumbled across this not knowing that we had this channel available. I had initially went to channel 1212 (Kids on Demand) to see what programs were there. My kids love to watch Boomerang and I saw that there were three shows there available: Yogi Bear, Smurfs, and the Flintstones. I kept this in the back of my mind so next time they were to watch TV, I would ask if they wanted to see any of those shows. I then scrolled up to see what other channels were available when I stumbled across this.
I don't know what type of result all of this will have with Chase, but judging from the number of emails I've received, they will be losing scores of customers soon if not already. When I checked again only a few minutes ago, the segment is still available on channel 1203, and remains sponsored by Chase. I won't waste the hours of time in calling back
Chase
and
CNN
as I did with PeoplePC. Their actions speak for themselves. I did not receive any response whatsoever from CNN to explain their actions as was promised. Their absolute lack of respect for the American soldier and his/her family is evident.
Update [29 December 2006 / 4:56AM]:
I'm sorry I didn't post this sooner, but I want to thank Patrick Ishmael at
The News Buckit
for spotting this. CNN is memorializing a marine as it simultaneously trades on his blood. Marine Corporal Joshua D. Pickard, Merced, California was killed on 19 December 2006 while conducting combat operations in Al Anbar province, Iraq. He was assigned to 2nd Assault Amphibian Battalion, 2nd Marine Division, II Marine Expeditionary Force, at Camp Lejeune, North Carolina.
Department of Defense Press Release
Update [29 December 2006 / 9:12PM]:
Welcome additional visitors from
Bill's Bites
,
Gateway Pundit
,
Tammy Bruce
,
Webloggin
,
Florida Masochist
,
186K Per Second
, and
Digg
.
Update [17 June 2007 / 7:44PM]:
Welcome new visitors from NewsBusters!